Volunteer for OPIN
Volunteering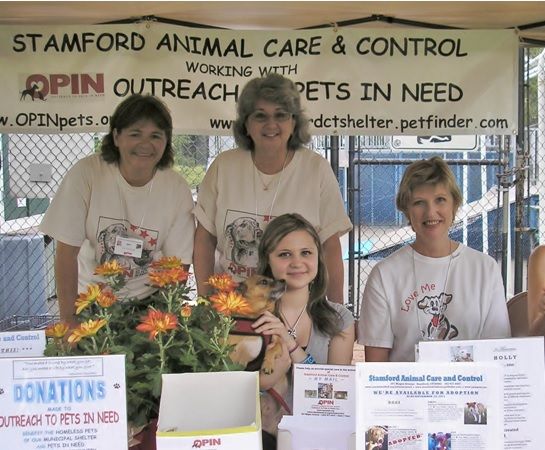 Ways to help:
Walking and socializing dogs in foster care and boarding
Transporting pets to events and vet visits
Fund-raising and event coordination
Marketing, PR and community outreach (see Pound Around Town, below)
Administrative work and data entry
Professional services, such as accounting and legal
Dog trainers, groomers, behaviorists & vet techs
Adoptions support
Volunteer with OPIN: Pound Around Town
Carla and her Pound Around Town (PAT) team began "pounding" around town on Dec. 8, 2008. Since then, the PAT team has raised thousands of dollars and educated thousands of residents about Stamford Animal Care & Control and OPIN.
PAT tables over the weekends at local hot spots with photos of our adoptables, information on SACC/OPIN/adopting, merchandise for sale, and a donation box. Volunteers sign up for shifts and are always in pairs.
It's a fantastic way to volunteer if you enjoy talking to people, or prefer to sit while volunteering. The impact that Carla's team has made is material, so it's a highly effective, low-commitment way to make a difference!
If you'd like to help with PAT, contact Carla at carla@opinpets.org. We're always looking for more helping hands!
Volunteer at Stamford Animal Care & Control
Not only is it fun, but each and every hour you give makes a direct, positive impact on the well-being of our homeless pets. Ways to help:
walk and socialize dogs
cuddle and play with cats and rabbits
clean and organize the shelter
handle administrative tasks (adoption kits, adoptable bulletin boards, etc.)
If you're interested in volunteering, fill out a Stamford Animal Care & Control volunteer application below, or download here After the Shelter Manager has reviewed your application, shelter staff will contact you with details on volunteer orientation. Currently there is a wait list, but we encourage you to apply and stay abreast of activities.
Volunteer Application:
This form does not yet contain any fields.