Pick of the Litter Critter Contest
"And the winners are . . . "


A drawing was held at OPIN's 3rd quarterly
PROJECT CHIP'N
Free Micro-chip Clinic
on November 10, 2012.
Here are the four lucky winners of the contest:
MOLLY
(Stephanie Davis)
DOLCE
(Christine Matthews)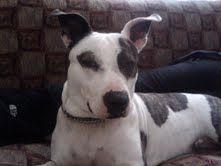 CLEO
(Chantal Avignone-O'Neill)
MAX
(Morgan Johnson)
Each of these pets will be photographed by OPIN's
great friend and supporter, Geoff Tischmann, of
Geoffrey Tischmann Photography,
and we will post the "before" and "after" photos here.
Please be sure to check back regularly, to see the amazing results!
We want to thank sincerely everyone who contributed
to this fundraising effort by entering our contest, which raised
$4,000
towards a much-needed NEW and IMPROVED shelter
for the homeless pets of Stamford Animal Care and Control.
There's still a long way to go before reaching our goal,
so please keep those donations coming!